USA'08 – New York City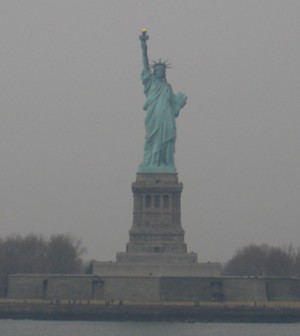 Warning
: preg_match_all(): Compilation failed: invalid range in character class at offset 26 in
/www/htdocs/w00d7f88/weltreise-magazin/wp-content/plugins/amazonsimpleadmin/AsaCore.php
on line
1443
Wie schon in meinem letzten Beitrag angedeutet, sollte nach unserer Ankunft in New York noch ein ereignisreicher Abend auf uns warten. Kurz unser im Herzen von Manhattan gelegenes Chelsea Star Hotel bezogen, und schon ging es auf eine erste Entdeckungstour durch New York, um genauer zu sein, zum Time Square. Um nun endlich die Katze aus dem Sack zu lassen, folgendes. Am Time Square war ein riesiger Menschenauflauf von New York Knicks Anhängern zugegen. Die New York Giants hatten den Superbowl im American Football gewonnen. Ausgelassen wurde der Sieg durch ausufernde Jubel-Explosionen der New York Giants Fans gefeiert. Die Feierlichkeiten der Giants sollten uns während des gesamten Big Apple Aufenthalts begleiten; ein tolles Erlebnis!
Von der 5th Avenue zur Grand Central Station
Nach einem ereignisreichen Start in New York ging es am nächsten Tag erst einmal darum, sich in dieser Weltstadt an der Ostküste der USA zu orientieren. Vorbei an riesigen Wolkenkratzern in der 5th Avenue ging es zur Grand Central Station, dem weltgrößten Bahnhof. Weitere Highlights während unseres New York Aufenthaltes waren selbstverständlich der Rockefeller Center ("Top of the Rocks"), Empire State Building, Ground Zero (inklusive WTC Besucherzentrum), Freiheitsstatue, Museum of Modern Art, Central Park, UNO, und vieles mehr! Es würde jetzt einfach viel zu lange dauern, alle Highlights dieser spannenden aber auch niemals schlafenden Stadt im Detail zu beschreiben. Schaut Euch einfach die Bilder an!
Dennoch möchte ich nachfolgend noch auf zwei Attraktionen näher eingehen. Zum einen stand ein Besuch der "Late Show" von David Letterman auf dem Programm. Dies war während unseres New York Aufenthaltes ursprünglich nicht vorgesehen, doch wurden wir am Time Sqaure angesprochen, ob wir nicht Lust hätten die Late Show zu besuchen. Nach der Beantwortung einer Frage zur Show hatten wir auch schon die Tickets ergattert, und konnten am nächsten Tag David Letterman live begutachten. Während der Show wurde klar, woher Harald Schmidt sein Konzept hat, die Show kam einem doch sehr vertraut vor. Die Gäste an diesem Abend waren Colin Farrell, Lenny Kravitz und die mir bis dato unbekannte Blake Lively.
Indiana Pacers vs. New York Knicks im Madison Square Garden
Als Abschluss unseres New York Aufenthaltes ging es am letzten Abend in den bekannten Madison Square Garden um uns ein NBA Spiel anzuschauen. Das Spiel gegen die Indiana Pacers ging für die New York Knicks zwar knapp verloren, dennoch war es ein tolles Erlebnis. Während einer Spielpause erschienen dann noch einige Spieler des neuen Superbowl Gewinners, den New York Giants, um sich ausgiebig feiern zu lassen. Erst jetzt kam im nicht ganz ausverkauften Madison Square Garden richtig Stimmung auf.
Alles in allem drei ereignisreiche, aber auch anstrengende Tage im Big Apple. Im nächsten Bericht geht es dann weiter in die Hauptstadt der USA, nach Washington DC. Seit gespannt, die Reise geht weiter…