Das Outback Australiens – Valley of the Wind & Ayers Rock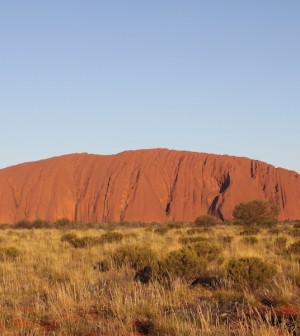 Warning
: preg_match_all(): Compilation failed: invalid range in character class at offset 26 in
/www/htdocs/w00d7f88/weltreise-magazin/wp-content/plugins/amazonsimpleadmin/AsaCore.php
on line
1443
Morgens um 04 Uhr war dann auch schon wieder wecken angesagt, denn es sollte zum Parkeingang des Uluru-Kata-Tjuta-Nationalpark gehen um den Sonnenaufgang des roten Steins in der Mitte Australiens zu sehen. Die tiefroten Bilder, wie sie oftmals auf den Postkarten zu sehen sind gab es für uns aufgrund des Regens zwar nicht, dennoch ein toller Blick auf Ayers Rock bzw. Uluru wie dieser von den Aboriginals genannt wird. Rund um Uluru gibt es zahlreiche Myhten und Sagen, welche oft in der sogenannten Traumzeitgeschichte der Ureinwohner Australiens erzählt werden. Bevor wir jedoch den bekanntesten Berg Australiens aus nächster Nähe begutachten konnten sollte es auf eine andere Wanderung ganz in der Nähe gehen.
Die Gebirgsgruppe des Kata Tjuta im Valley of the Winds
Im 'Tal des Windes' liefen wir bei warmen Temperaturen zur Gebirgsgruppe des Kata Tjuta, oder auch als 'Olgas' bekannt. Dieser Gebirgszug im Outback Australiens wurde im Übrigen nach der ehemaligen Königin Olga von Württemberg benannt. Die Wanderung mit seiner schönen aber trockenen Fauna war nicht weiter anstrengend, dennoch war es eine Herausforderung. Denn Hunderte von umherschwirrenden Sandfliegen begannen langsam aber sicher doch ganz schön zu nerven. Unser Guide erklärte uns noch die eine oder andere Bedeutung von wichtigen Steinen in der Welt der Aboriginals bevor es dann endlich zum Ayers Rock gehen sollte.
I did NOT climb Ayers Rock!
Nach ein wenig Basketball am Camp kommen wir am Mittag am Ayers Rock an und ich besorge mir als erste Maßnahme erst mal ein Fliegennetz. Nach dem Besuch des kleinen Museums am Uluru, hatte ich mir eigentlich vorgenommen – wie schon so viele andere – Ayers Rock zu besteigen. Doch aufgrund der zahlreichen Hinweisschilder der Aboriginals kann ich nun behaupten: 'I did NOT climb Ayers Rock!'. Zu Beginn hatte ich es mir eigentlich schon vorgenommen – doch es ist, mal abgesehen vom Respekt gegenüber den Aboriginals – auch nicht ganz ungefährlich. Deshalb machte ich mich auf, um Ayers Rock einmal zu umwandern, und zwar bei brütender Mittagshitze. Die zahlreichen Hinweisschilder, das man doch bitte nicht fotografieren solle, habe ich dann irgendwann doch ignoriert, denn Ayers Rock ist schon ein tolles Fotomotiv, das steht fest. Unterwegs treffe ich noch ein paar Spinnen, Schlangen und den recht seltenen 'Thorny Lizard' (Dornteufel).
Nach der Umrundung des roten Felsen geht es mit der gesamten Crew zu einer Aussichtsplattform, um einen wunderschönen Sonnenuntergang am Ayers Rock bei Wein und Käse als Tagesabschluß zu bewundern…